Download and print an entry form or stop in at the library to pick one up.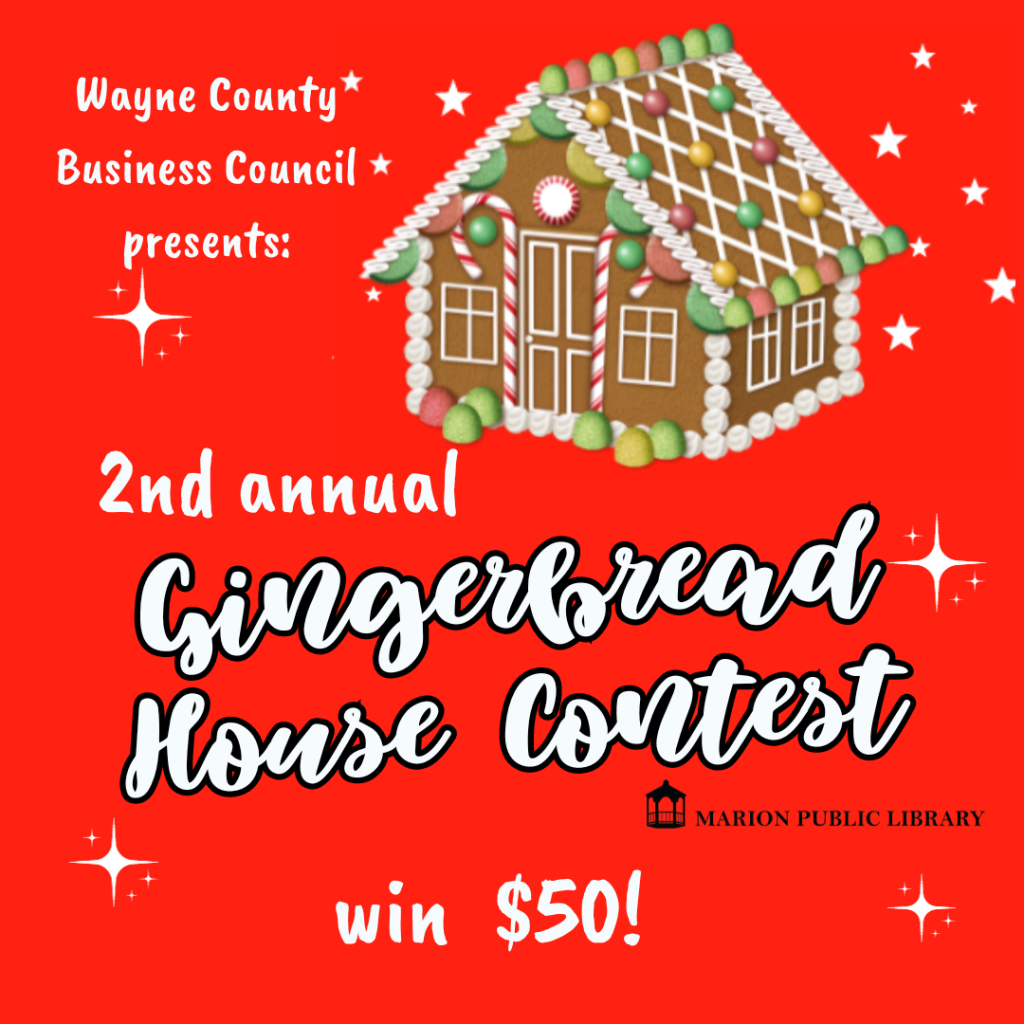 A few things have changed this year, but it is still a contest that could win a participant a $50 check to spend on whatever they wish!
This year, the participating Wayne County libraries will choose three houses (one from each of the categories) to send to a "Grand Finale Exhibit" at Palmyra Community Library. The three chosen homes will be displayed in the beautiful gallery space at the Palmyra Community Library. The Wayne County Business Council will have a panel of judges view the finalist houses entered into the exhibit on December 7 at 5 pm. By 6 pm, there will be a single winner in each category. The exhibit will be up through Saturday, December 9 for people to enjoy. Finalists in the grand finale may choose to pick up their home by 8 pm on Monday, December 11 or to leave it for the business council to dispose of on Tuesday, December 12. Winners in the grand finale will be contacted by phone. The council will want to snap a photo of the winner(s) with their gingerbread house and their award. Photos of the grand prize winners will be sent to the Times.
We welcome individuals, organizations and families to make houses!
Gingerbread houses may be brought to the Marion Library between Monday, November 27 and Monday, December 4. Three selected entries will be taken to be displayed at the Palmyra Library for the final round of judging.
We were very impressed with the creativity of our community last year and are looking forward to seeing what you come up with this year.
Here are the rules of the contest:
1. Entrant must be a resident of Wayne County.
2. Entrant must register at their participating Wayne County home library.
3. Entrants may use kits as desired to create their house. They may also create a house without the use of purchased kits.
4. Participating home libraries will arrange for houses to be judged. Three finalists from each participating library will be sent to Palmyra Community Library for a final judging and exhibit (December 7-9). Houses should be brought to the library on Wednesday evening, December 6.
5. Three categories will be judged: Juvenile: age 4-14, Adult: age 15 and up and Wayne County Community Organizations (may be a nonprofit or for profit organization) or a Wayne County Family (an entry done together as a family unit).
6. Drop off your gingerbread house to your home library. The house must be on a cookie sheet or board not exceeding 24″ by 24″ and the completed official registration sheet must accompany it.
7. NO peanuts, tree nuts or nuts of any kind allowed.
8. NO artificial materials such as Styrofoam or wood are to be used to construct or decorate the house either on the interior or exterior of the house structure (with the exception of lighting).
9. All gingerbread houses must be 100% edible (with the exception of lighting). Candy, embellishments, materials to decorate in any fashion (except lights inside or outside the house) must be edible. Non-edible support structure materials (other than the use of a cookie sheet or board for the base) are not permitted.
10. Non-edible decorations placed on the property of the house (the cookie sheet or board base), but NOT on the structure itself are permitted (ex: wire trees, spray snow, small figurines, etc.).
11. Judging of finalists from each Wayne County Library will be completed by Thursday, December 7, 2023 at 6 pm. Winners will be contacted following the judging.
12. Winning entrants will be notified by phone and arrangements will be made for accepting the cash prize and having a picture taken for the newspaper.
13. The prize for each category winner will consist of a $50 check from the Wayne County Business Council.
14. Finalists will need to pick up their gingerbread creations from the Palmyra Community Library no later than December 11 at 8 pm. Entries not claimed will be disposed of by the Wayne County Business Council the following morning.
15. Participating home libraries reserve the right to keep non-finalist homes on display for a reasonable amount of time for the public viewing. Home libraries will inform participants on pickup deadlines.